Keeping Pests Out Of Your Pantry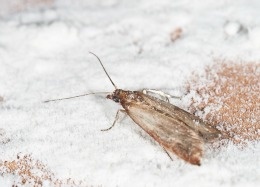 You might store your dry food in the pantry, but certain pests would refer to your pantry as their dining room. Certain pantry pests will gladly make their homes in your kitchen or basement pantry, silently feeding on your cereal, flour, or other stored foods.
Pantry insects and pests can inhabit and feed on common cooking and baking ingredients such as flour, nuts, dried fruit, or other stored products like pet food. Two of the most common pantry pests to look out for in your kitchen include the Indian meal moth and the merchant grain beetle, but other common pests like cockroaches, ants, and rodents can cause problems in your pantry as well. Indian meal moths can be found eating away at grains, seeds, nuts, powdered milk, candy, and occasionally dried red peppers. Merchant grain beetles tend to snack on cake mixes, pasta, chocolate, and cookies. Many pantry pests aren't particularly picky about what foods they eat, so you may have plenty of products to protect. Fortunately, there are a few simple steps you can take to keep insects and rodents away from your pantry.
Plants Are Your Friends
Adding a bay leaf to packages and containers of dry goods like grains, rice, or flour will keep pantry pests at bay (pun intended). Bay leaves can repel flies, moths, roaches, and mice, simply because they can't stand the bitter smell the leaves exude. The leaves don't even need to be fresh, either; dried bay leaves work just as well.
Many other plants and herbs have pest-repelling properties as well. Some studies have shown that catnip may be more effective at deterring insects (like cockroaches, especially) than DEET, which is a chemical found in most insect repellants. Fresh pennyroyal mint is often used to keep ants out of kitchens, and basil makes for an excellent fly repellant.
Use Plastic Storage Containers
Store your food in resealable, plastic Rubbermaid or Tupperware-style containers. The thicker protection will keep insects and rodents from infiltrating or chewing through otherwise flimsy (cardboard) packaging. Glass can work just as well as plastic; just be sure your storage container is topped by a tight-fitting lid.
Keep Your Kitchen And Pantry Clean
It should probably be pretty obvious to you by now that pests are attracted to food sources. Even still, the importance of proper sanitation cannot be stressed enough. Don't let messes and spills sit for too long. Clean up any crumbs, spilled ingredients, debris, or liquid as soon as possible, and dispose of trash regularly. You may even consider occasionally cleaning your pantry and shelves with soap and water to eliminate any bugs that may be hiding in those spaces.
Is your kitchen being plagued by pantry pests? The experienced professionals at JP Pest Services can get rid of insects from your kitchen quickly and completely! Contact JP Pest Services to request a free residential estimate today!